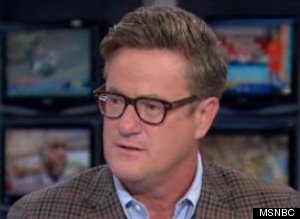 To view the video go
here
This morning Mika Brzezinski and Joe Scarborough were arguing about RNC Chairman Reince Priebus's decision to bar CNN and NBC from airing the GOP presidential debates if they show the documentary on Hillary Clinton.
Mika Brzezinski said that Priebus should come on their show and explain his position because he still had Fox for the friendly venue that he wants. Joe stepped in and said "
Every time you bring up Fox, you've got to bring up MSNBC
."
If Joe's comments comparing the networks and the rhetoric stopped there, I might tend to agree with him more often. MSNBC, low ratings and all, do not recruit people who are running in the democratic primary. There's no doubt that the network liens liberal and they will discuss the issues from that point of view. I don't think any one is blaming the RNC for trying to use their leverage but they can't be crying media bias.
Joe Scarborough always plays the moral equivalence card when confronted with some crazy things republicans say. These days, moderates like to stay above the fray by saying that both sides do it, but that's not true. The left has their fringe elements but they've been kept out the limelight for several years now. The right on the other hand has been out of power for several years, so they're more willing to show their frustration. For example, Republicans are attacking Republicans right now and Democrats are sitting back and enjoying the show.
For whatever the reasons, liberals don't tune in to talk radio or view MSNBC unless it's during a presidential election year, and the network's rating prove it. I normally record the evening programming for some tidbits I might of missed during the day. Oftentimes, a guest like Erza Klien will break down an economic theory enough to where I can understand it. Lawrence O'Donnell will break down policy procedures as he did when he was a senior staff member in the U.S. Senate.
Fox on the other hand appeals to the older 65 year plus white viewer, who will turn on Fox at 6:00 AM and a leave it there until they go to bed. It's a constituency that votes. Christianity, conservatism, the Second Amendment and traditional values is what drives these people and Fox tailors their programing to suit their needs.
I don't see what Republicans are complaining about because they have more than their share of the media. Conservatives certainly dominate talk radio and Fox dominates political cable television. I guess they want network television, Hollywood, the New York Times and the White House as some sort of entitlement. They think that the country is center right even though the data doesn't support that.
A good illustration of the media and political differences is someone's take on the George Zimmerman trial. I bet an avid viewer of Fox thinks that Trayvon Martin was a thug, and George Zimmerman had every right to kill him in self-defense. An MSNBC viewer like myself watched most of the trial and was disappointed but not surprised at the verdict. It wasn't so much the network's influence because most of us already had preconceived notions about the outcome.I believe networks like MSNBC, and Fox serves as cheerleaders for a certain point of view and CNN does a disservice because they go out of their way to try to stay in the middle. Look at the several George Zimmerman trial letters that have been written in our newspaper which are mostly about promoting an agenda.