The fiscal cliff continues to overshadow a problem that would remain with us even if we get a bipartisan agreement to start getting our fiscal house in order. If we don't start to do something about income inequality; we will continue to have fiscal cliffs.
The corporate philosophy during the post-war era was to produce enough income to be able to share a sizable share of the wealth with their employees. Company loyalty was a plus and much of their gains were used build new plants, invest in the newest technology and hiring new employees. Today, those same corporations only allegiance is to their shareholders. Corporate CEOs are driven to increase the bottom line to make their shareholders wealthy. In turn, they are given lucrative stock options and benefit packages.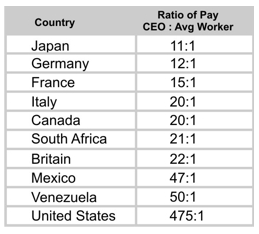 The nation's largest private employer is Walmart but it also continues to be the worst company to work for, when you compare their worker's pay and benefits to the company's profits. They're not ashamed of the negative publicity and they proved it this Thanksgiving, by taking away a holiday from their employees just to hear the ringing of the cash registers. It's not that Walmart had to take those measures to remain profitable because Costco continues to pay their employees more than $20.00 an hour and provides them with good benefits and health care. Costco still has the post-war era corporate philosophy because to them; employee turnovers are costly and unnecessary.
The politicians in Washington are fiddling around the edges in trying to come up with a plan that will not hurt their reelection prospects. It shouldn't be a secret that eliminating loopholes and capping deductions for the wealthy will not get you close to $800 billion, so marginal tax rates will have to be raised on the rich. I think a deal could be made by raising the marginal rates by 3% and increasing the capital gains rate by 5% for now. The entitlement cuts will be a little more difficult because I can't see how you would cut spending on the beneficiaries. There's talked of rising the Medicare requirement age to 67 but I would only be for that only after the Affordable Care Act makes it a seamless transition. I don't think it makes sense to have 65 year old go two years without health insurance. I think it's wise to give waivers to those who work in the more labor intensive jobs.
I'm not that impressed that seven republicans have vowed to break the Grover Norquist pledge of never raising taxes, to keep from going over the fiscal cliff. The senate already has a bipartisan bill that retains the Bush tax cuts for 98% of the people. The challenge will be in the House of Representatives where the GOP currently has a 50 seat margin. The 88 Tea Party members think they have a mandate not to raise taxes or the debt ceiling. We have to remember that not raising taxes is a core principle belief for most republicans. Let's just say that 100 republicans will not vote for a tax increase under any conditions; that leaves 141 republicans to get the 27 votes from (if all the 191 democrats vote yes) to pass a bill. Nearly all of the 141 republicans will not be challenged by democrat but they will be challenged by a more conservative republican.
I'm hoping the marginal rate for those making more than $250,000 gets raised to 39% and hedge fund managers get taxed at ordinary rates rather than the capital gains rate. I don't want to punish wealth but the wealthy will still go out and work just as hard for a 70% profit as they did for an 85% profit. It's been proven that higher tax rates will make the wealthy will keep more money in their companies to make it more profitable rather than buying more expensive toys.
We are a consumer driven economy, so we will remain stagnant unless employees have more money to spend.Oh yes, higher wages will be passed onto other consumers but according to a study I saw, that would only be about $171 yearly. If you believe we are all in this together, then it's well worth the extra cost when you consider the alternative.
My sympathies don't lie with corporations because they are doing quite well and they have most of America fooled. The corporations have gotten out of costly pensions; they weren't fully funding anyway and have gone 401ks. The average worker today will never retire if we don't do something about income inequality. It's been proven that workers aren't good investors, so they will never accumulate the funds necessary to retire in comfort. There is so much I could tell you about 401ks but it would take another blog. For example, it worked for me but we were in a bubble when I made all my gains and by a streak of good luck, I converted those gains to IRAs before the bubble burst.
If we don't want any form of socialism, then we need to do something about plutocracy. I'm all for market based solutions but if three million people have 99% of the wealth, that system alone is unsustainable. Redistribution is not a bad word if it's used in proper context.
I feel much better now, because writing this blog allows me to release all the frustration I held over Thanksgiving weekend. I wanted to write about the housing crisis but I'll save it for another time but when someone tells me that all our problems are because of President Obama, welfare or undocumented workers; don't be surprised if I unload the rest of my frustration.