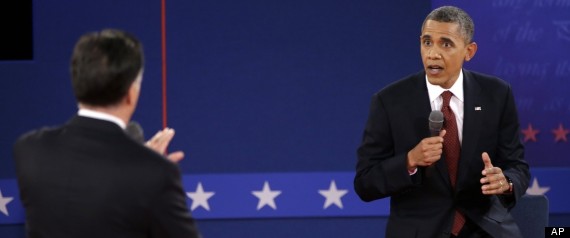 According to the gang on "Morning Joe" the president failed to outline his plans for the future, so he may have won the debate, but he didn't move the undecided. That's interesting, I saw a couple of focus groups last night, and I came away wondering how they got to the studio. For example, Chris Matthews asked a female panelist, what she thought about Mitt Romney avoiding the question about pay equality for women. She said something, like "
he may have not heard the question, or maybe he didn't pay that much attention to it"
but I was surprised it didn't bother her all that much. I can understand gasoline prices being important, but it seems to me our country doesn't want to line up the dots on the subject. They just want to equate gasoline prices with whoever is in office.
The pundits thought Mitt Romney won on managing the economy, but the president won on everything else. I can't see how Romney won on economic issues when his tax plan numbers don't add up, his energy policy is "
drill baby drill
" and his plan of keeping Pell Grants is in total contradiction to the Paul Ryan budget that passed a couple of times. We have a 30- year economic downfall that neither candidate is addressing. Our wages have been stagnant for a long time, and we have not graduated enough high school or college students to meet our future needs. The president touched on it, as John McCain did in 2008, by saying that the outsourced jobs are not coming back, so we need new good paying manufacturing jobs, but they can only be filled with an educated work force.
At one point in the debate, I slumped in my recliner in disbelief as; both candidates were vying to be the "coal" president. Yes, I know they are pandering for the voters of Pennsylvania, Ohio and West Virginia. I don't blame Mitt Romney for standing in front of that coal plant and saying, "
this plant kills.
" I'm not impressed when the president says he is seeking a phantom "clean coal" technology. I can't believe the candidates were arguing semantics about drilling on federal lands. Mitt was right, drilling on federal lands dropped 14% in 2011, but it went up by 15% in 2010, so the president is still ahead by one percentage point. The drilled oil goes on the world market, so why is that important? It's amazing how we've had three debates, and the words "climate change" has not been mentioned.
I'm still trying to figure out why it's demeaning(the binder comment) to women because Romney said he picked many women to work in his administration by going to women's groups and saying, "
can you help us find folks, and they brought him back some binders full of women."
That happened but not the way the governor described it, it was women's groups who started the movement. He still ahead, he didn't reject the effort, but he had to be led to it.I can see why some women may be upset when Romney said he supported flexible working hours so women could get home in time to fix dinner.
Mitt Romney blew a huge chance to rightly critique the president and his administration on the botched communication efforts concerning the Benghazi attacks. Mitt Romney chose to personalize and politicize the issue. That left the door wide open for the president to scold Mitt Romney for the cheap shots. Mitt tried to stay on script and criticize the president for not calling it an act of terror until 14 days later. Mitt Romney was wrong and was rightly corrected by Candy Crowley in front of millions who were watching. I can only speak for myself, but I don't get a sense that Mitt Romney or Paul Ryan have a good feel for foreign policy. Foreign policy is about knowing the leaders of foreign countries,and the customs,culture of the people in those countries.It's about deciphering intelligence but most of all it's about" knowing when to act or react."
I'll think anyone can dispute that President Obama and Governor Romney do not like or respect each other. Last night, Mitt Romney came out like a CEO in command of a board meeting but was quickly taken aback when President Obama met his challenge head on. The president was obviously agitated, but it didn't seem to distract him.
I think the president knocked down Romney after the Libya comment, but he got up, although staggering before the 10-second count. In answering a question on how he has been mischaracterized; Romney again left himself wide open by saying that he was for the 100% because up until the final two minutes of the debate, the president had not mentioned the 47%. The president came roaring from his corner and delivered the knockout blow by saying, "
you can believe Mitt Romney when he said that 47% of the people thought of themselves as victims
" and then went onto name old veterans, students, seniors and returning veterans as part of that 47%. I didn't see the pleasantries at the end of the debate between the candidates and their spouses, and I heard that Mitt left shortly after the debate but the president stayed around for the victory glad- handing.
I don't think much changed after last night, but it will be interesting to see the aftermath of the debate; if there's any. The president has to do what he did last night because it's the only way to counter falsehoods. The president has the record and all Mitt has to do is convince enough Americans that Obama, though well intended, did not do enough, and he can. Ohio is the key but 83 of their 88 counties depend on the auto industry; that's the reason the president is doing so well in that state.