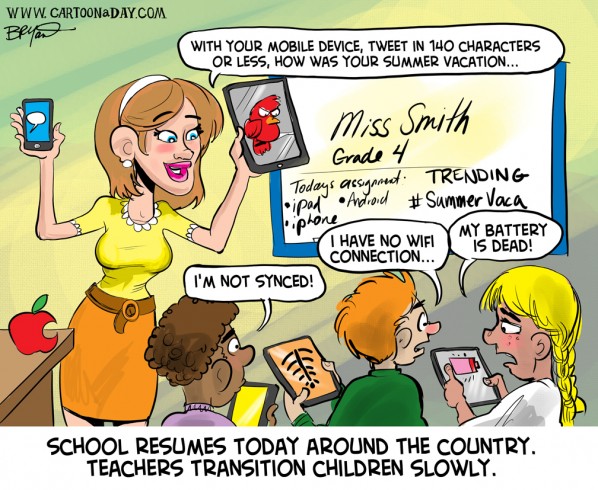 I've owned computers for over 30 years but I never had the misfortune of seeing that blue screen of death. I've had the monitor go out and trouble with peripherals but I never had a hard drive crash on me. Last week, when I turned on my iPad, I could only see one half of my screen and I didn't have control of the settings. Rather than panic, I got on the other computer to see if there were any fixes on YouTube or the Apple Forum. I started getting depressed when one of the suggestions was to give the unit a hard tap to the bottom, so I gave up for the night.
The next day I did a little more research and found a suggestion to my liking. I knew I had never backed up to iCloud (more on that later) so I thought I would restore the iPad to its default settings using iTunes but all that did was wipe out what I had in the unit and replaced it with a blank screen. I looked up the address for one of the Apple stores in Houston and found out I had to make an appointment using their Genius menu.
The next day I went to visit the Geek Squad at the Victoria Best Buy but I found out that they can fix everything except the Ipad. I didn't find out that out until I had to answer questions like "
Did you buy it here and is it still under warranty
?" I answered no to both irrelevant questions. I inquired about the availability of a new iPad but they didn't have the model I wanted. The salesgirl told me that I could pay for it at the Victoria store and pick one up in Sugarland. Why would I want to do that?
Last Friday, we headed out to the Apple Store inside the First Colony Mall in Sugarland. I was immediately met by a representative who guided me to another person, so I could be checked off as the person who made the appointment. I was then taken to an iPad technician who told me that it would cost me $249 to try to retrieve my data, but he wasn't sure if the unit was repairable. After consulting with my chief financial officer (wife) I decided to purchase a new one. It was then that I found out that I must've had a senior moment back in October of 2012 because I don't remember backing up the iPad to iCloud. I was surprised when the representative asked me to type in my iCloud user name and password, and then I stood there amazed as my old data and apps were transferring to the new unit. I'm still leery;I think the old unit could have been repaired. I was really impressed with their service because we were in and out of the store in less than 15 minutes. In Victoria,it takes that long to get get a knowledgeable sales person and that's questionable.
There's no getting around it, the iPad is an expensive toy and you have to adjust to using one if you are ever going to be satisfied. If my children had not bought me one three Fathers' Days ago, I probably wouldn't have one today. My wife asked me why I preferred iBooks to hardback books. I then listed all of what I thought were great advantages:
1. I can place my finger over a word and its definition pops up
2. I can highlight a word, sentence, or paragraph for future reference.
3. I can carry it with me.
4. I can instantly download whatever I want (saving myself a trip to Hastings) and save a ton of money..i.e. Average cost of a hardback is ~$18 and the average download cost is $9.
My wife wasn't impressed because she said I already had several dictionaries, highlighters, and a book probably much lighter than an iPad and finally Amazon delivers, but she did gave me credit for download cost but not when you factor in the cost of the iPad. I had her beat on that point because my first iPad was a gift. If you want an honest critique;ask your wife because they don't hold back...;-)
I prefer my iPad to a desktop or a laptop and anyone who has a smart phone can relate. The iPad is like a Swiss Army knife with a 9" screen. I did have to buy a case with a built-in Bluetooth keyboard because I couldn't get used to the built-in keyboard. I could write a blog on my iPad but I prefer using my desktop (larger screen, keyboard and mouse) for its usability. I use the iPad for quick responses to emails, (wherever I'm at) entertainment, quick research, and a place to store all the notes that I use in my daily life. I didn't know how much I depended on it until I didn't have it anymore.
I wish the iPad would have been around in my younger years because it's like having a set of encyclopedias at your disposal for whatever question comes up. It probably has its tradeoffs like the hours I enjoyed playing sports or learning a subject using the old fashion methods of intensive studying. It probably would have interfered with the quality time I had with my family.
I love technology and but there are times when I have to question its feasibility because right now It seems like I have a personal programmer trying to make my life easier; for a nominal fee of course.
I see where there's an app that allows you to show a police officer your insurance information but I'm not sure if they have to accept that. There's also an app called Square Wallet for your smart phone that allows you to pay for your Starbucks coffee without taking out your wallet by scanning the price label. Wal-Mart has a pilot program where customers can use their smart phones to scan their purchases and pay by phone. Many stores already have the scanning booths, so this is just another way to pay. There is an app called Pageonce that I must have signed up for in my "mad downloader" days that literally scares me. The Pageonce company must keep up with my credit purchases and buying habits although I deleted the app a couple of years ago. I still get periodic messages advising me where I could have bought the item at a much cheaper price. That's scary but then again Amazon sends me emails saying "
you looked a this item,so you might be interested in this item.
" Remember the days when you went through all the trouble of taking out your wallet,handing your cash to the clerk,hear the clang of the cash register and out the door you went and no one was the wiser?