It shouldn't surprise anyone that we're constantly engaging in the war of semantics, instead of rolling up our sleeves to fix the problems that are keeping us in this rut. The latest battle is finding the proper word to use to describe the Affordable Health Care Act. Is it a tax, penalty, or fee? I'll dwell more into that later, but if my insurance premiums rise, it will be an increase in expenses for my household budget. It could just be that my old company decided to pay a lesser portion, my insurance company decided to raise their premiums for unknown reasons, or perhaps it was part of a fee but I am not one of those who will receive a tax or penalty for not purchasing health care. I am not one of those approximately 4 million folks ,who will decide that just don't want to buy health insurance.
It's funny how both presidential candidates insist that health care law is a penalty and not a tax for obvious reasons. I tend to go along with their reasoning because, if, in fact, we are using the Internal Revenue for a reference, then the Internal Revenue Service is authorized to assess penalties for various tax violations and deciding to opt out of health insurance(free rider) would fit nicely in the code. For example, if you decide to withdraw from a deferred compensation plan, that taxable portion of that withdrawal would be taxed at ordinary income rates, but you would be assessed a 10% percent penalty if you were not 59 1/2 years old at the time of withdrawal.
I understand why Republicans want to call it a tax; it's in their DNA. They do have a problem because their nominee for president is calling the Act a penalty because, if it's called a tax, the Democrats would say that he raised taxes in Massachusetts; something that Mitt Romney adamantly denies. The Republicans go on and say that it's the largest tax increase in history, but that talking point draws four Pinocchio's from the Washington Post's fact checking site, Politifact. Mitt Romney does admit that he raised user fees but he is one of those Republicans, who doesn't think a fee is a tax. I remember telling my conservative friends at work that the only difference between parties is how they raise revenue. Back in the day when we used to have democratic governors in Texas; I would say, yes your Republican governor cut property taxes but he raised fees to pay for them. The democratic governor had to come and raise taxes to repair the neglected infrastructure. Democrats cannot erase that "tax and spend "depiction but my party didn't put in enough effort in tying the label "borrow and spend" Republicans around their neck. Republicans slipped out of that noose because they convinced their constituents that they are the party of fiscal responsibility. I've always said that Republicans are great campaigners, but they can't govern.
The conservatives are still angry at Justice Roberts, but they're saying that he called the whole Affordable Health Care Act a tax. No, he's specifically said that the Act is not constitutional under the commerce clause, but it could fit in the taxing powers of Congress. The first time that Justice Roberts has ever sided with the more liberal side of the court caused a political firestorm of conspiracies. The liberals are cautioning their side to remember how Justice Roberts has voted in the past and how he would likely rule in upcoming and cases such as: affirmative action, voter rights, and DOMA. I can't believe how Republicans overlooked the fact that Roberts made it extremely difficult for future legislation to be included in the commerce clause. He also made it possible for Republicans to gin up their base to get the numbers; they need to repeal the whole Affordable Health Care Act. The court by a 7-2 margin voted against the Federal government mandating the extension of Medicaid. That was huge, because, if the red states opt out, it will mean that 6.2 million people will not be injured. that's nearly half of those eligible. It's funny how the conservative states that want to opt out for political reasons have the most uninsured people and would be benefited more or as Howard Dean called it "Intellectual Malpractice."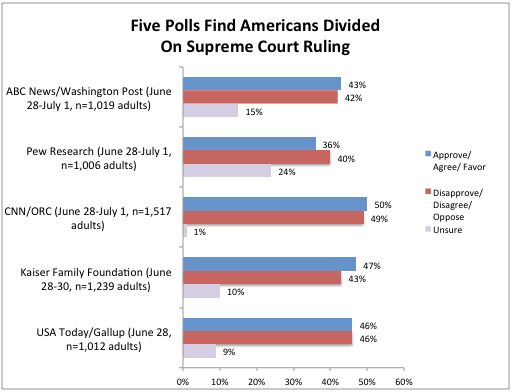 Meanwhile, the Affordable Health Care Act will be used by the populace as a dumping ground for their complaints; a lot of them will automatically blame their premium increase on the law, allowing the health insurance companies to scathe free.
Irony or hypocrisy?"
According to an analysis by The Huffington Post, dozens of Republicans who want to repeal Obamacare have adult children who are allowed to stay on their parents' health plans thanks to the law, which extended this benefit nationwide. Many of the lawmakers' children are employed and on their own health care plans, but others continue to take advantage of their parents' coverage."