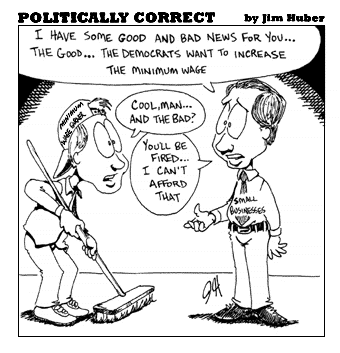 Representative Jesse Jackson Jr. (D-IL) is busy trying to gather sponsors to send a "$10 an hour Minimum Wage" bill
. It's practically dead in the water, but it's a first step in asking for another minimum wage hike increase. The last minimum wage legislation was in 2006 taking three years to bring the increase to the current $7.25 minimum. Some state's minimum wage is higher than that. I remember in 2007, Chicago barred Wal- Mart from inside the city because they do not want to pay the $10.00 an hour minimum wage. Representative Jackson said that the last time we set the correct amount on a minimum wage was in 1968, so in order to meet the 1968 minimum wage increase after indexing for inflation, that amount would be $10.00 an hour. It's not that out of the ordinary because candidate Obama said he wanted to see the minimum wage at $9.50 by 2011. The president never got around to talking about it.
Come on Democrats,you have to get on base,steal second,get bunted over to third and then come home anyway you can;can't just go for the home run ball.
I can see a $10.00 an hour minimum wage phased in over a 5-year period (depending on what party is in power), especially during these hard economic periods. Economists have always been against a minimum wage because of their free-market principles, but they are normally supply- siders. The $2.25 increase will help the demand side of the "supply and demand equation." Henry Ford was not a liberal by any standard, but he recognized that he would prosper with a strong middle class. In 1914. Mr. Ford, established an unheard of $5.00 a day minimum wage in his factories. That $5 a day made the Ford Company much more attractive and made Henry Ford a billionaire. Morale shot up, employee turnover sharply dropped, and, most important, productivity surged. The argument is that Mr. Ford made a free market decision and not one mandated by the government. My answer to that is, competition did not follow suit allowing Henry Ford to become a billionaire and his decision brought up the upper- class to boot. We need to start doing something about the income inequality, but I don't think the answer will be come from the supply side because they will continue out sourcing, employing fewer workers and using more technology to make profits for their shareholders. That's good for my portfolio but it doesn't do a thing for my middle-class working friends,relatives and neighbors.
It's not a one- sided issue because the small-business owner is already burdened with a lot of overhead and with 15 million people unemployed, his goods aren't exactly flying off the shelves. I saw a roundtable discussion where a small-business person said that an increase in the minimum wage would make him shutdown one of his three stores because the little own aspect of raising the minimum wage would mean that he would have to raise the wages of those making $10.00 an hour in order to keep the peace. Congressman Jesse Jackson Jr. then said that small businesses had received 18 tax cuts, so it only seems fair that workers get an increase. Remember that story in our paper a few days ago about the employee who worked all those years at Chesnik's furniture? I would be willing to bet that his salary is not among the highest; mid-level at best. We know that you can't really make it with $8.75 an hour and considerably less so at $7.25, so even if you account for the fact that those are supposed to be entry level wages, workers have not gone greatly above that for years. It would be wonderful if market competition controlled the wages, and I've seen a good example of that because I remember our company regularly increasing our benefit package, wages, and bonuses and but then that stopped as insurance costs started skyrocketing and they changed their focus to downsizing and increasing the bottom line.
The $10.00 minimum wage will also get many workers off the government dole and make them taxpayers, they might finish that degree program that they couldn't afford or start paying their student loans. It's not all bad but like the one of my favorite political saying goes " Don't let the perfect be the enemy of the good."
I don't expect this to be an issue in this year's presidential campaign even thou increasing the minimum wage is a well-liked issue. It's as popular as tax cuts but wait, isn't that one of the reasons we're in this mess in the first place! We always want the goodies, but we don't want to pay them.